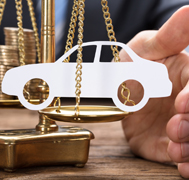 What criteria do you use when deciding how to buy a vehicle?
Most people take two things into consideration — the car payment financing and how much the vehicle is worth.
The car payment financing tells you how much you'll have to spend each month to pay for the car, but the vehicle's worth can be a personal preference, or even a status symbol. Deciding what one to prioritize can be a bit like a chicken-and-egg situation.
Do you determine your car financing before choosing a car, or do you choose a car and then determine car payments based on that vehicle's worth?
Here's a good rule of thumb:
When you decide to buy a vehicle, look at what you can afford to repay monthly, with the end goal of owning your vehicle in five years. Then work backwards.
What you repay will largely depend on the type of car payment financing you qualify for.
If you have great credit, everyone will try to loan you money, and probably even at zero per cent interest. But those offers are usually on new vehicles and can involve a seven-to-eight-year repayment schedule – is that the best financial choice?
You shouldn't be extending vehicle financing over the length of a mortgage amortization! Even if you have great credit, it's usually not the best choice to be making car payments for any longer than necessary.
If you have bruised credit, it's even more important you assess your financial position before choosing a car. You will be asked for larger down payments, have higher interest rates, and those interest rates will impact your payments.
In this instance especially, it's better to source your financing before your vehicle – and then you only look for vehicles you can afford vs. falling in love with something that you can't afford.
Don't fall prey to future financial struggles just for the sake of a fancier vehicle.
At Prudent Value Cars, you can be sure you're getting a great deal on your car payments and your vehicle value. We keep our financing affordable and offer great value vehicles that will meet your needs.
Learn more today. Call 1.888.852.7647 or visit www.prudentvaluecars.com.