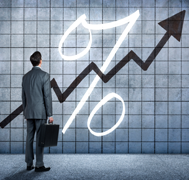 The Bank of Canada (BOC) has increased interest rates again — this time to 1.75%, as of October 24, 2018.
If you're struggling with debt, this increase could have a big impact.
The last interest rate increase was in July of 2018, when rates went up to 1.5%. Although the October announcement is only bringing rates up by another 0.25%, it could add up to big dollars in the long run.
Say that you are carrying $10,000 of debt on one credit card at 20% interest, $8,000 on another at 18% interest, and $2,000 on a third at 23% interest.
Now you are adding on another 0.25% interest to all of those totals. It may not seem like a lot at first glance but consider that you are making those payments every month. Even if you have that money in your budget, can you really afford that?
The BOC said in their announcement that household spending is stabilizing. Canadian credit growth is "moderate" and housing activity has been steady. They believe this is due to higher interest rates and new mortgage rules, such as the mortgage stress test.
What this could mean is that:
Canadians are taking out less credit or
Canadians aren't eligible to take out as much credit because they are carrying too much debt.
Many lenders are taking the loan-to-value (LTV) ratio into account, especially when it comes to mortgage loans, but they are also considering the gross debt service ratio (GDS) and the total debt service ratio (TDS).
The GDS is the amount of debt you carry relating to your household expenses, e.g. mortgage, utilities, etc.
The TDS is the amount of debt you carry relating to all expenses.
If your GDS or TDS is too high, you might not be eligible for a loan. This can make it especially hard, particularly if you were using that loan to rebuild credit.
The solutions:
Make a plan to pay off debt. The more debt you are carrying, the harder it will be to pay off, particularly if interest rates increase again.
Look for loans with fixed-rate terms. Fixed rates will not change with the interest rate, so you can plan out your payments in advance. Variable rates are subject to Canadian interest rate changes.
Consider sources of new credit if the bank says no. Don't fall sway to payday loans and the like. Look for a reputable alternative lender with a good track record.
At Prudent Financial, we offer loans no matter your credit score. All you need is either 50% equity in your house or a paid-off vehicle that is less than six years old.
We can also help you make a plan to get out of debt, rebuild credit, and more.
The next BOC interest rate is scheduled for December 5, 2018.
Contact us today for a free consultation. Call 1-888-852-7647 or visit www.prudentfinancial.net.