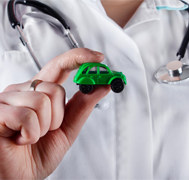 We know, we know – with the novel coronavirus (COVID-19) ongoing, people are driving a lot less.
But not everyone can stay off the roads.
Essential workers such as nurses, doctors, grocery store clerks, construction workers, and more have to get to work somehow. And for most, that means taking their own vehicles.
In this unprecedented time, money is tight for nearly everyone. And what can you do if you run into an unexpected emergency with your car — or otherwise — but don't necessarily have the funds to pay for it?
We're here to answer that question.
Car Financing in Toronto and the GTA – Looking for a New or Used Vehicle
If you are looking to buy a new or used vehicle during the COVID-19 pandemic, there are a couple of hurdles to face.
First, you need to make sure that any dealer you are considering has a safe way for you to view their inventory.
As of May 19, auto dealerships in Ontario have been given the go-ahead to open with physical distancing measures in place. At Prudent Value Cars, you can also view our inventory online: https://prudentvaluecars.com/see-our-inventory/
The second hurdle is how to finance your vehicle purchase — especially if your household income has been affected (for instance, if you are still working, but your spouse has been laid off) or if you have bad credit.
This is where a car loan can help (and a bad credit car loan, if credit is an issue).
At Prudent, for example, we offer financing to buy a used car, truck, or motorcycle — whether you buy from a dealer or from our own dealership, Prudent Value Cars. This gives you fast, same-day financing to deal with a car emergency quickly and keep getting to work on time.
Learn more about our bad credit car financing here: https://www.prudentfinancial.net/bad-credit-car-loan-toronto-prudent-financial/
Using Your Car for Financial Assistance – Like Car Repairs
Now, let's talk about another aspect of car financing — repairs.
You may not necessarily need to replace your car, but it could require some repairs. And, again, depending on your situation you may not have the cash at hand.
What options do you have?
If your car is paid-off and six years old or newer, you might be eligible to borrow with your car. This can give you a same-day loan of up to $20,000. (This could also be a good option if you have any emergency – not just car repairs).
If you have equity available in your home, you may be eligible for a home equity personal loan. This is not a second mortgage or secured loan. It's simply a loan based on your equity and responsible habits. Again, this money could be used for car repairs, if necessary.
Finally, we also offer bad credit personal loans of up to $5,000, which are dependent on job, income, debt, and assets.
The COVID-19 pandemic may be anything but normal, but you still have options — and we are here to help you find the best one for you.
If you need car financing in Toronto or the GTA — or other financial assistance, please don't hesitate to contact us today. You can call Prudent Financial Services at 1-888-852-7647 or visit www.prudentfinancial.net.
Interested in car financing or purchasing a vehicle? Check out our sister site, Prudent Value Cars: https://prudentvaluecars.com