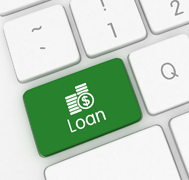 With social distancing in place due to the ongoing COVID-19 pandemic, many things that we used to do in-person have migrated to online — including taking out loans.
Today, more lenders are cropping up across the country offering online loans to Canadians who are hard hit by the coronavirus.
But how can you tell if these lenders are reputable?
At the same time as online loans have been increasing, so have COVID-19-related scams.
CBC News reported that Canadians have lost $1.2 million in recent weeks due to fraud related to the pandemic.
Widespread fraud schemes have included:
Impersonating health organizations.
Pretending to be from the Government of Canada.
Texts prompting Canadians to apply for the CERB program (Canadian Emergency Response Benefit) and then taking their personal information.
Fake messages claiming to be from companies like Amazon offering work-from-home roles in exchange for personal information.
And more.
One fraud scheme to also watch out for is lenders who are not actually lenders.
And even if a lender really is who they say they are, you still need to be vigilant and make sure that you understand the terms and conditions of the loan you are agreeing to.
Here's what you need to watch.
Warning Signs of Online Loan Scams
a)  The lender has no reputation.
Even if a lender is operating online, they should still have a real-world footprint. They should have a physical address and business history. (For instance, at Prudent Financial we have been operating since 1984.)
You should be able to call the company and speak to them. If you cannot, watch out.
They should also have online reviews from real people. If they don't have any reviews, that is a warning sign.
b)  They reach out to you through a text.
If a lender (or any agency you haven't had contact with before) reaches out to you through a text, beware. This is a precursor to a lot of scams.
If you're uncertain, search online for the organization's main phone number and call them (don't just call the number from the text). They should have a record of contacting you and know what it is about.
But when in doubt, it is best to ignore this type of contact.
c)  The loan requires payment upfront.
One of the most common loan scams is when a lender asks for payment upfront.
Reputable loans don't come with upfront fees for insurance, verification purposes, or otherwise.
This is often a scam where a lender will ask for payment upfront and then you'll never actually see the money they promised.
d)  You're guaranteed approval.
This one is tricky because you want to be approved for a loan. But if a lender guarantees approval, it's actually a bad sign. This is because most reputable lenders have some criteria that they lend against. They don't just give a loan to anyone.
Even at Prudent Financial where we offer bad credit loans, we still need to verify eligibility.
Guaranteed approval could indicate that a lender is too good to be true and setting you up for a scam.
e)  They don't report to the Canadian credit bureaus.
Most payday lenders fall under this category. A lender may give you money – but the terms and conditions are outrageous and, what's more, they do not report to the Canadian credit bureaus.
Why does this matter?
When you take out a loan, especially if you have bad credit, it can help with your credit repair. Every time you make a payment on time and in full, it helps improve your credit. But if a lender doesn't report to the credit bureaus, your good payment habits won't help fix your credit.
Finding Reputable Online Loans
All that said, there are reputable online or socially distanced lenders out there who have shifted their business model due to the COVID-19 pandemic.
Prudent Financial is one of them. We are open by appointment, but we are also offering consultations over the phone and you can apply for a loan online.
We offer equity loans in Toronto and the GTA, meaning you can borrow with your car, home, or other assets regardless of your credit score. We lend to people with bad credit, self-employed, and even people in an undischarged bankruptcy or consumer proposal.
You can learn more about our services and eligibility requirements at www.prudentfinancial.net or by calling 1-888-852-7647.
If you decide to take out an online loan, make sure that you do your research. Remember that if it sounds too good to be true, it likely is.