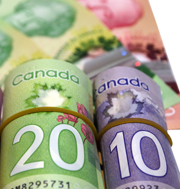 Good news for Canadian consumer debt — the Bank of Canada interest rate isn't going up this month.
On September 5, 2018, the Bank of Canada (BOC) announced interest rates will stay at 1.5% for the time being. The rate had increased from 1.25% to 1.5% in July of 2018.
The September stay means that Canadians with outstanding consumer debt have more time to deal with it before another rise. But be warned that more hikes are on the way. The BOC stated in its September 5 release that more increases will likely be warranted, and they will continue to raise rates gradually.
So, while this may be good news for now, it's not an excuse to ignore debt — instead it should be an opportunity to deal with it.
Increasing interest rates affect all forms of variable-rate interest debt. This could include credit cards, certain lines of credit, and even unpaid bills, like an outstanding phone bill. If interest rates increase again, it will mean that even more money is owed to these unpaid loans.
Even if you can afford to pay for an increase, the extra money could probably be put to better use.
The best way to cope with an interest rate increase is to deal with debt — now.
This might look like:
Using home equity to pay off outstanding debts or looking into a home equity personal loan.
Getting a debt consolidation loan.
Only applying for loans with a fixed interest rate that you can budget and plan for.
Switching to a fixed-rate mortgage vs. a variable-rate one.
Considering filing for a consumer proposal or filing for bankruptcy.
You don't have to deal with debt alone. At Prudent Financial, we can help make a plan to manage your debt before more BOC interest rate increases come.
The next BOC announcement is scheduled for October 24, 2018. Get in contact with us before then.
Call 1-888-852-7647 or visit www.prudentfinancial.net for a free consultation.