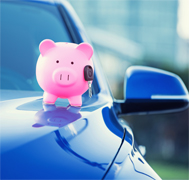 If you are dealing with the after effects of less than stellar credit behaviour, you may be finding it difficult to secure funding. Many individuals are in the same position, and often are unsure where to turn to secure funding to consolidate debt. However, if you own your car, a car title loan may be the answer. You can borrow with your car to consolidate debt.
Why a car title loan? When you've got bad credit, for whatever reason, an unsecured loan may seem like your only option for consolidating debt – and often these loans are not that high. When you borrow with your car, you can usually get far more that you would be able to get with an unsecured loan.
There are other significant benefits too. Car title loans are often a better option because they have a fixed term – this means that they won't revolve like credit cards (and for those of us with a little trouble avoiding temptation, the chances of using money that has been paid off is reduced).
What about just continuing to use your credit card? Perhaps check out the cost of borrowing on your credit card statement – monthly minimum payments are so low that you don't actually pay off the balance – you are really just keeping up with interest costs – and that can mean hundreds of dollars in interest continuing to accumulate.
What about a payday loan – maybe you've heard the advertisements and think these are a viable option. We urge you to reconsider. Payday loans are a terrible option – rates are often sky-high and they, more often than not, end up getting rolled over again and again because you often can't manage the full payment at month's end (this is how they make their money – by preying on your weakness). For example, if you earn $1500 bi-weekly and you owe $1000, some payday loans will require you to pay $1200 on your next paycheque.
Here is an even better illustration of the cost of a $500 payday loan rolled over:
2x (taken out for 1 month) at a 21% fee = $210 in interest for the month or an effective cost of borrowing of 42%.
13x (taken out for 6 months) at a 21% fee = $1365 in interest for the 6 months or an effective cost of borrowing of 273%.
26x (taken out for 1 year) at a 21% fee = $2730 in interest for the year or an effective cost of borrowing of 547.5%.
Are you starting to see why a car title loan may be the way to go? We hope so. At Prudent Financial, we offer personal loans to individuals with bad credit – even discharged and undischarged bankrupts – without the high fees and sky-high interest. And these report to your credit report, meaning you are constantly rebuilding that credit score.
For more about car title loans or to find out if you qualify to borrow with your car, please call Prudent Financial today at 1-888-852-7647.