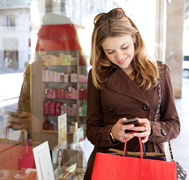 It happens to everyone; the gifts, the party clothes, the dinners – these costs add up, and the holidays become a source of stress rather than a source of celebration. If you're finding it hard to meet all your financial obligations this time of year, you might be considering some emergency holiday funding – and you have options, including a secured loan.
What are these options? Here are the most popular, as well as the pros and cons of each:
Use your credit card – this, for many Canadians, is the most obvious one. After all, why not just use what you've already got in your wallet. If you can pay these off in full once the holidays are over, this may be a good route to take, but if not, or if you're already sitting on a mountain of credit card debt, remember that these come with high interest and can take forever to pay off.
Payday loan – we hesitate to even include this as an option, because there really are no positives to mention. Sure, you can get a small amount of money quickly, without a credit check – but that isn't necessarily a good thing. Payday loans are actually the most expensive financial option, the fees and short repayment terms often resulting in a vicious cycle of re-borrowing and a snowball effect as far as costs. We urge you to stay away from these as much as possible.
Personal loan – whether you've got great credit or bruised credit, a personal loan makes good sense because your payment is fixed, you can control when it is paid off, you get the cash right away and it will help you rebuild your credit. If you've got less than stellar credit this may seem like an option that isn't exactly open to you, and if you head to a bank it may not be, but there are companies that believe in second chances, and will extend a secured loan even to individuals in bankruptcies and consumer proposals, so look for these.
Always remember: don't let holiday spending get out of hand. Often our hearts are bigger than our wallets around the holidays, and that is nice, but when your credit report takes a hit as a result, the consequences may just have you reeling once the holidays are over.
Looking for a little extra cash to get you through the holidays? Prudent Financial can help. We can help you get approved for a personal loan quickly, one that reports to your credit report, even if you're an undischarged or discharged bankrupt.
Don't let the holidays stress you out, call Prudent today at 1-888-852-7647.