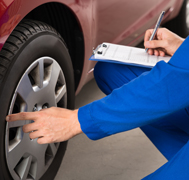 Winter driving: we all dread it. The snow, the slush, the ice – none of these conditions make for a smooth, relaxing commute, and whether you drive 10 minutes or an hour to work, being winter ready is important. Winter driving can be a challenge, but being prepared for the cold weather and all it brings can help keep you and your family safe all winter long.
Things to Do to Winterize Your Car
Test your battery. A fully charged battery in good condition is a must for starting your engine in cold weather. Have the battery and charging system tested by a trained technician to help avoid cold mornings and a non-starter.
Make sure you always have a snow brush in the car, and a shovel is never a bad idea either in case you get stuck!
Check your wiper blades. Our vehicles' wiper blades can take a lot, but eventually they'll get to a point where they've had enough. You don't want that to be during the middle of a blizzard. Check your wiper blades for cracks, peeling rubber, etc., and replace them if necessary.
Put your winter tires on. Many insurance companies offer discounts if you have winter tires, and for good reason. Winter tires are designed to allow your car more flexibility on winter roads, providing a better grip on the ice and snow compared to all-seasons.
Check your lights. Do a visual check to make sure that all headlights, taillights, emergency flashers, turn signals, brake lights and back-up lights are fully operational. Replace any burnt out bulbs.
Check your tire pressure. The cold winter air can cause your tire pressure to drop, making it harder for them to get a good grip on the icy, snowy roads.
Keep your windshield washer fluid topped up, all the time. You never want to get stuck on the highway without washer fluid – the reduced visibility may land you in the ditch or the back of the car in front of you!
Don't think your car will make it through another winter? If this is the case, checking the tire pressure or filling up the washer fluid won't do much good. Breaking down on the side of the road during a winter storm is not only costly, it can be very dangerous. If you're concerned that your car has seen its day in the sun, consider the benefits of a new car, one you can trust will get you through the long winter months.
At Prudent Value Cars, we care about your safety. If you believe that even this checklist to winterize your car won't keep you off the side of the road, give us a call. We can get you into a car that will keep you safe, and won't break the bank!
Call us today at 1-888-852-7647.