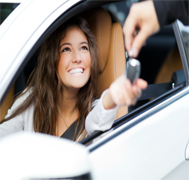 If your car is on the fritz and you are tired of spending time and money at a repair shop, maybe it is time to bite the bullet and trade in and trade up. If you are thinking about buying a new car, or a new-to-you car, you never want a car payment to make things tough, so we've got some advice to help make the financial transition a bit smoother.
Tips for financing a car the smart way:
Start by taking a good look at your budget and what you can comfortably commit to on a monthly basis. Make sure to leave room for incidentals and unforeseen expenses – don't just max out your budget with a car payment.
Once you've settled on a number, tell the dealer your budget – that way they won't continually push you towards cars you can't afford and instead will present you with options within your price range. This way you can find a car you like, priced right, with terms you can live with.
As far as terms, try to stay away from 7 and 8 year periods. A car loan should not be a mortgage – any car loan that takes more than 5 years to pay, is a car you probably shouldn't consider.
Be cautious when working with a dealer who seems pushy or refuses to stay within your budget and or when dealing with a finance person who is withdrawn or isn't connecting with you – they probably don't have your best interests in mind.
Avoid curb siders. These are unlicensed individuals, dealers or retailers who sell cars with the goal of making a profit off of vehicles they have generally owned for a very short time – many will have problems or are not worth nearly what is being charged for them – or could even have issues with licensing and ownership! All of these can end up costing you way more than your budget allows.
Getting a new car can be fun and exciting, but it can also be stressful when it comes to making the right choice as far as budget. Don't let the end result be one you regret!
At Prudent Value Cars, we work with you to find the perfect car – one that you love and that fits your budget! We can help you finance, even if your credit is less than stellar.
Contact us today or check out our inventory by visiting www.prudentvaluecars.com.