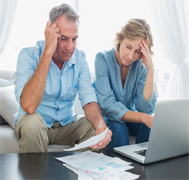 It is a common issue faced by many Canadians: problem credit. With this issue comes another that can make things difficult: problems with credit usually mean fewer options for credit. This is largely due to the fact that most institutional lenders will be more hesitant to lend if you are considered higher risk.
What does this mean? This means that you become vulnerable to private lenders for personal loans – those lenders who are less discerning and take advantage of individuals with problem credit. Falling prey to private lenders or even loan sharks can leave you with repayment terms that you can't reasonably afford.
However, there are institutions that will give you a second chance – even if you've previously claimed bankruptcy or are still undischarged.
Prudent Financial knows the risk of dealing with private lenders for personal loans. We strive to protect our clients, no matter how bruised their credit, from those lenders looking to take advantage.
Call us today at 1-888-852-7647.