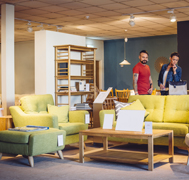 When you're tired of that old sofa or loveseat – you know, the one you purchased years ago – but your bruised credit has limited your financial options, you may be thinking that renting furniture offers the best of both worlds. While this often catches people off-guard, seemingly offering a great option when you don't have the ready cash, there are several drawbacks! Buyer – or, in this case, renter – beware!
Since its debut several years ago, many have turned to renting furniture as a solution to their design woes. However, when you read more into this solution, you quickly realize that things are too good to be true.
We took a look at a popular furniture rental company – we easily found it on Google – to see what kind of 'deals' those looking to rent are actually getting. One of the first that caught our eye was a beautiful sectional sofa for only $156/week. Sure, that looks great at the outset, but when you factor in the term of the rental (24 months), in the end you're actually paying $3,744.00! That's well over the actual value of the sofa, or what you'd pay if you bought it.
When you have cash on hand, or the ability to pay for furniture outright in one go, you have way more buying power – you can negotiate discounts, go for promotions, even get extras thrown in (delivery). With the rental option, those abilities just don't exist.
What if you don't have the cash sitting in the bank and just can't wait to save up the funds? It makes sense to just get a loan. There is loan financing available to those who have bruised credit. With a loan, you will have the cash in your pocket to buy exactly what you want vs just taking what you can get because you need the financing.
With cash you can:
Hit the sales as they happen, often resulting in huge money saved
Check out gently used furniture on sites like Kijiji and or other online classifieds
Check Facebook buy and sell groups for local deals
If you need new furniture, don't get caught up in the glitz and glam of renting it. While renting furniture does represent an attractive option, you'll end up paying way more in the end. With a personal loan, you can buy what you want without the restrictions!
At Prudent Financial, we can help you get the design of your dreams.
Call us today to find out more about a personal loan for furniture – or whatever you need.
1-888-852-7647.