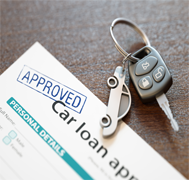 Get ready: January is the time for a fresh start – after all, it will be a New Year! For many, this means sprucing up the ride and getting a new car. A few weeks ago we talked about why winter is a great time to buy a new car, and this week we follow that post up with one that talks about the different types of car loan financing.
Here are the most popular car loan financing options and the pros and cons for each.
Car leases – While this option may seem appealing because you are getting a new car, often at relatively reasonable monthly payments, there are several cons. As a result, leasing seems to have gone out of favour for many Canadians. For example, at the end of a lease, you have to worry about mileage overages or even minimal damage, and you are not actually getting anything in the end. If you want a new car every two years, sure this may be an attractive option, but it usually makes little sense financially.
Dealer financing loans – Ok, so leasing is out, so what about financing. This is a better option, but if you are looking for low monthly payments you'll be getting these for a term of 72-84 months, or sometimes even longer – that is a lot of interest! Once they've added on the admin fees, freight fees, warranties and add-ons that you 'must have', you end up financing the equivalent of a house over a term as long as some mortgages. Even if payment is LOW this is a bad idea.
Buying used – Since a car's value depreciates the minute you drive it off the lot, it makes a lot of sense to buy used. A used car with low mileage is a great choice both financially and when it comes to buying a reliable vehicle. Buying something that is a few years old with lower kilometres is often a great idea. This is the best way to get a low monthly payment, the best deal on a vehicle and avoid all the new card dealer upsells
Conventional car loan financing – Getting a loan to pay for a car has its advantages: you can shop around, finding the best rates and terms, you don't have to deal with dealer upsells or aggressive selling tactics, and you can be sure that you are only spending what you can reasonably afford each month.
When it comes time to upgrade, rather than buying a car you fall in love with that you can't afford, work backwards looking at what you can. Work with a dealer that offers lots of car loan financing options, including in-house – don't get stuck resenting your car!
Prudent Value Cars can help you find an affordable, reliable car, at a great rate. Visit us at http://www.prudentvaluecars.com/index.php or call us today at 1-888-852-7647.