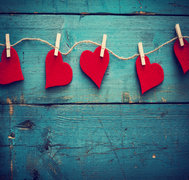 You're probably thinking about all of the ways that you can show your significant other how much you care about them: candies, flowers, jewelry, etc. This Valentine's Day, forget about the big spending – money can't buy love after all. We've got the Valentine budgeting tips to help make this year a little less heartbreaking for your wallet.
Valentine budgeting tips:
Stay in. Often we feel like we need to be out to celebrate – but really, all the best stuff happens at home anyways, so why leave? Plan a romantic dinner (yes, heart-shaped pizza counts), open a bottle of wine and light the candles.
Write a love letter. Channel your inner Robert Frost and put all those thoughts down on paper – and no typing – a handwritten letter is far more personal. Can't find the perfect words? Search for the perfect poem.
Go ice skating at Nathan Phillips Square or one of the many other free spots around the city. Strap on the skates and whirl around the rink. Don't forget to hold hands.
Make a memory box or book. Include things from your life together, or things that remind you of what you've done. Pictures, receipts, postcards, and ticket stubs are all great. Of course, this all depends on you having kept such things.
If you feel like taking your significant other away for the weekend, check Groupon or WagJag. Both offer great deals on weekends away – everything from a wine tour in Niagara to a cozy cottage up north. Pack your bags.
Take a brewery tour. Hit up the Distillery District and make a reservation at one of the many breweries around the city. Learn how that tasty brew is made and then sit and enjoy a cold glass. While you're there, check out the Toronto Light Festival, Toronto's first-ever light art festival.
Create an 'I love you' jar. Find an empty jar and fill it with slips of paper with all the reasons you love your someone special – just be prepared for some tears (the good kind).
Be rebellious and celebrate on a different day! Everyone knows that retailers often jack up the prices on Valentine's Day, so instead of sticking with tradition, break away and celebrate on the 15th – it could save you big.
When it comes to Valentine's Day, it is really easy to spend a lot on that special someone. Just remember, love don't cost a thing – or at least it doesn't need to. These Valentine budgeting tips make it easy.
Need a little to tide you over this Valentine's Day? Call Prudent Financial today at 1-888-852-7647.