Winter tires are essential for driving in Canada.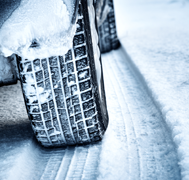 Studies have shown that at temperatures below 7°C, all-season tires stiffen up. This results in less traction, less braking distance, and makes it much harder to handle the car. It also increases the risk of getting into an accident.
Tires that are made specifically for winter driving, however, are created from softer rubber than all-seasons. This means they stay more flexible as temperatures go down and maintain a better grip on the road. They also have deeper threads, allowing for more traction on both snow and ice.
According to Consumer Reports, winter tires stop six feet shorter on average than all-seasons when braking on ice.
Winter tires in Canada aren't a nice-to-have – they're a must-have.
In fact, it's even compulsory in some provinces. For example, in Quebec winter tires are mandatory between December 1 and March 15 and if you don't have them you could be fined between $200 and $300.
In Ontario, winter tires aren't mandatory, but merely recommended. But it's still better to have them than not. By installing winter tires, you can even score an insurance discount as high as 5%.
There's just one issue with installing winter tires – they often cost more. A good set of winter tires can land between $80 to $200 per tire. Plus, there are the costs of balancing the tires, putting the tires on rims if you have them, storage if you don't have the space, and so on.
Even though you know you need winter tires, you might not be able to afford winter tires.
If you're in this boat, you have options.
Option #1: Look for savings when purchasing.
Some Canadians will only go for two winter tires on the front or back of their vehicle and two all-seasons to keep costs down. While this can be friendlier to your budget, it isn't recommended. It's far safer to have four winter tires.
You can also save money by not putting your tires on rims, although you may end up paying more in maintenance costs when it's time to switch back to your all-seasons.
Option #2: Ask about manufacturer discounts and rebates.
Some winter tire manufacturers offer deals when you buy all four tires from them. You can use this to your advantage to get your total price down.
You can also shop around. Some dealerships may offer discounts if you purchase from them and store your winter tires there, too.
Weigh the costs and the convenience.
Option #3: Financing winter tires.
The third option is best when even with a discount, money is still tight for winter tires – financing them.
For example, with Prudent's Borrow With Your Car solution, you can borrow against your paid-off vehicle six years or newer with same-day loans of up to $20,000.
If your car isn't eligible, there are other financing options. You might qualify for a personal loan based on another form of equity, like your house or other assets. Here at Prudent, we have financing options for people with bad credit, good credit, and more.
Don't go without winter tires this winter – discover your financing options today.
Learn more about our Borrow With Your Car solution at https://www.prudentfinancial.net/bad-credit-car-loans/. Or call 1-888-852-7647 or visit www.prudentfinancial.net for a free consultation.