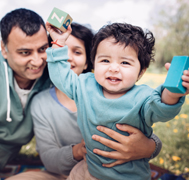 Family activities are a great way to spend the weekend together, but often it can feel like finding things to do with the kids can rack up the big bucks. Many fun family activities are expensive and if you're on a budget or saving for the future are more of a splurge than a bargain.
That said, there are some fantastic and affordable family activities in Toronto and the GTA. We've rounded up some of our favourites to give you and your brood some ideas for bonding fun.
Toronto Harbourfront Centre
Toronto's Harbourfront Centre often has affordable, or even free, family activities. In warmer weather, there is lots of room to run around, such as the Waydecks — long, wooden structures that look like waves.
Evergreen Brick Works
Evergreen Brick Works on Bayview Avenue has a Children's Garden, nature play, historic tours, and more. Check it out for yourself: https://www.evergreen.ca.
Art Gallery of Ontario
The AGO has free admission every Wednesday night. Revolving exhibits mean there's always something new and there's plenty for kids to enjoy, too — like drawing stations and a children's exhibit. If you go during the daytime, there's also a hands-on activity centre for kids.
Fort York
Fort York is Canada's largest collection of original War of 1812 buildings and the 1813 battle site. It's located in downtown Toronto and open year-round. Tours, exhibits, and period settings are all part of the experience.
High Park Zoo
Perfect for a family day trip. The High Park Zoo is free to visit and is open all year-round. Plus, you can explore more of the park and bring a picnic lunch.
Riverdale Farm
This historic, working farm takes up 7.5 acres including wooded areas, ponds, and vegetable gardens. Visit the farm animals and chat with a farmer during daily milking, feeding, and egg collection. Learn more about Riverdale Farm.
These affordable family activities won't break the bank but will break up the routine of staying home and watching TV.
If you do want to splurge on some pricier family fun, Prudent Financial can help. We offer personal loans, even to people with bruised credit and undischarged bankruptcies, that you can repay on a fixed schedule.
Contact us today to learn more: Call 1-888-852-7647 or visit www.prudentfinancial.net.