Start Your New Year's Financial Planning Early!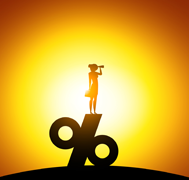 The Bank of Canada interest rate is officially staying at 1.75% for the rest of the year.
On December 4, 2019, the Bank of Canada (BOC) announced the interest rate would remain the same for another month. This marks no changes to the Canadian interest rate for the whole of 2019. The current 1.75% rate was set in October of 2018.
Read the full text of the BOC decision here: https://www.bankofcanada.ca/2019/12/fad-press-release-2019-12-04/
The next BOC interest rate announcement is scheduled for January 22, 2020.
If you're carrying a lot of high-interest debt or looking to refinance your mortgage, this hold is good news. It can also go a long way towards getting a head start on your financial New Year's Resolutions!
But there's a dark side to it, too. Canadian consumer spending is on the rise and carrying much of the economy… We'll go into why this might be a problem and what you can do about it.
How the Interest Rate Hold Helps New Year's Financial Planning
If your New Year's Resolution is to get out of debt… the interest rate hold can help!
With a lower interest rate, it's more affordable to repay interest on products with variable rates, like credit cards.
You also might be able to get a better rate on debt consolidation methods, like a personal loan, mortgage refinancing, or taking out a second mortgage.
Whatever method you use to get out of debt, the interest rate hold is a plus — but beware of taking on more debt than you can reasonably handle.
If your New Year's Resolution is to fix your credit… the interest rate hold can help!
For those with bad credit, the interest rate stay gives time to start on the path to credit repair without having to worry about higher interest rates.
If you have bruised or bad credit, lower interest rates make it easier to start fixing your credit. You can make a plan to pay off credit cards or seek out bad credit loans to help rebuild your score. Make a plan to practice good payment habits — like always paying your bills on time and in full.
If you've recently filed for insolvency, like bankruptcy or a consumer proposal, you can also start rebuilding credit now through bad credit loans, bankruptcy loans, secured credit cards, and more.
If your New Year's Resolution is to start a budget… the interest rate hold can help!
Because the Canadian interest rate isn't changing until at least January 22, 2020, you can make a budget with all of your interest payments in mind.
If you're worried about fluctuating interest rates, now is also a good time to consider switching to a fixed rate so you can budget for the whole year ahead.
How the Interest Rate Hold Hurts New Year's Financial Planning
There is a downside to the interest rate hold, but it might not be what you think.
In the December 4 announcement, the BOC stated that one of the "sources of resilience" in the Canadian economy has been consumer spending. In other words, Canadians are spending more, which is keeping the economy going in spite of global trade conflicts and other uncertainties.
Why is this a problem? Well, the reason the BOC began raising interest rates in the first place was that they were worried Canadians were taking on too much debt. They wanted to curb consumer spending through increased interest rates and rely on it less to fuel the economy.
When it's easier to take out debt, people tend to take on more credit products (like credit cards) and sometimes bite off more than they can chew. This is when you get problem debt — or debt that you can't repay.
We've already seen some of these effects. The number of Canadian insolvencies is up. And Canadian consumer debt is continuing to climb.
In short, don't let the interest rate hold encourage any bad money habits. Assess how much you can reasonably afford to spend – or take on through credit — while sticking to your budget and saving for the future.
At Prudent Financial, we can help make your New Year's financial resolutions a reality. Our expert team will guide you through the ups and downs of the Bank of Canada interest rate, help you pick the best credit products for you, and much more.
Contact us today for a free consultation. Call 1-888-852-7647 or visit www.prudentfinancial.net.