Buying a car is a big decision – and one that many people make with their emotions.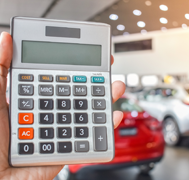 Consider this common scenario: you walk into a dealership and fall in love with a car on the lot. It's the perfect vehicle; you can see yourself driving it, it's the right size for your family, the colour you want… There's just one problem. You don't yet know the price.
Although you should – and can – like the vehicle you buy, there is a more important consideration to make when shopping for a new (or new-to-you) car: your budget.
That dream car you've spotted — do you know how much it costs? How about the gas mileage? The cost of maintenance (some vehicles are more expensive to find parts for)?
Before you even go onto the lot, you need to know how much you can afford to spend on a new vehicle. And then stick to that budget.
We're exploring just how to do that – and common budget pitfalls car shoppers fall into.
Figuring Out Your New Car Budget
If you're considering a new car, the first thing to do isn't to figure out what new car you want to buy – it's to determine how much you can spend. This includes:
Knowing what you will get for your current car's trade-in value.
Realistically assessing what payment you can afford to make each month.
How much money you will put as a down payment on your car, if any.
This stage of the process may be about shopping around, but not necessarily the way you might think. If you currently have a vehicle, different dealerships may offer you more or less value for it. See where you can get the most value and best interest rates before you ever consider your next car.
Going Beyond the Price Tag
While you need to consider the overall cost of the car, there are lot more factors that go into how much a vehicle will cost you over its lifetime. This includes:
Interest rates – different dealerships offer different financing interest rates. Some dealers will even offer special 0% interest financing deals at certain times of the year.
Gas mileage – different cars go farther on less fuel. Typically the bigger the car, the less fuel-efficient it is. As gas prices go up, this is important to keep in mind.
Maintenance costs – certain vehicles are more expensive to maintain, get oil changes for, replace parts, etc. Compare costs before buying to save money in the long run.
Length of warranty – whether you are buying new or used, make sure to ask how long the warranty is good for and when you have to start funding repairs.
Registration fees and dealer costs – know what, if any, hidden fees the dealership charges.
Value over time. You can also look at how much similar vehicles decrease in value from the time of purchase. While all vehicles depreciate to a certain extent, some do so faster than others, which is important if you're planning to trade it in.
Financing a Car: Short Vs. Long Terms
Some dealerships today are offering leasing or financing options of 84-to-96 months — that's the equivalent of seven-to-eight years!
Before accepting this length of term, ask yourself how long you really want to be making car payments for, especially if the interest rate is high. In many cases with these long terms, you would still be paying for your "new" car after the warranty is expired.
A good rule of thumb is to finance a car for three-to-four years (or less if you can afford it). If the only way you can afford your vehicle is to finance it for seven-to-eight years, it's best to consider it out of your budget.
Shopping for a New or New-To-You Car
While bells and whistles on a new vehicle are great, consider what bells and whistles you are getting for your hard-earned money.
Place the priority on safety over aesthetics.
When you have the final number of what you can afford to spend, only look at cars that fall in your price range. If you see the "perfect" car, but it's over budget, it's not the perfect car for you.
Compare Financing and Dealerships
The dealership can make a big difference as to what car you can afford.
Compare interest rates, financing options, cars on the lot, and safety regulations to find the right place for you.
At Prudent Value Cars, for instance, our safety testing goes far beyond Ontario testing standards. We offer bad credit car financing with competitive rates, superior pre-owned vehicles, and 30 days of mechanical warranty when driven under normal usage.
We also finance vehicles from any dealer of your choice.
Discover more about our inventory and auto financing options. Call 1-888-852-7647 or visit www.prudentvaluecars.com.