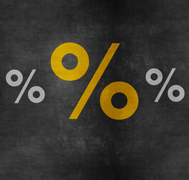 If your New Year's resolution is to get out of debt, good news: the Bank of Canada interest rate is staying the same for the time being.
On January 9, 2019, the Bank of Canada (BOC) announced they would not be changing the rate from its current 1.75% standing this month due to the global trade economy, oil prices, and weaker-than-predicted Canadian housing investment.
Household spending has also been lower than expected, and it's predicted to be even slower in areas affected by the oil market — such as oil producing provinces like Alberta.
However, the interest rate hold is good news for dealing with debt. The next BOC interest rate announcement isn't until March 6, 2019, which leaves two months to make good on New Year's resolutions and get out of debt once and for all.
If interest rates increase further, it will make paying off variable (non-fixed) debts even more expensive. Credit card bills, variable-rate mortgages, and more will all go up if the interest rate increases.
And the BOC has said that interest rates will continue to rise – just not right now.
Before that happens, use these steps to make a plan:
Assess Debt
Figure out how much you owe and where you owe it. Make a list of all your debts, fixed and variable rate.
Next make note of the interest rates and whether those amounts will change with the interest rate or are fixed. If they are fixed (meaning they won't change – like a car loan) make a note of if/when it is up for renewal.
Look at the most expensive debts, amount-wise and interest-rate wise. Which debts will be affected the most if interest rates increase again?
Make a Budget
Write down all expenses – essential and non-essential.
When you take out the non-essential expenses, what are you left with? How much money do you need for the bare minimum?
When you have that base figure, look at what is left over. Can you give up non-essential expenses to pay off debt? The more you can put towards reducing the amount you owe, the better.
Seek Fixed-Rate Funding
What should you do if you have too much debt to realistically pay off before March 6? Look for loans with a guaranteed interest rate.
For instance, at Prudent Financial we offer loans based on home equity or equity in other assets. If eligible, you could take out a loan from us at a fixed rate and use that money to pay down your variable-rate debts.
This way, even if interest rates do go up again, you won't be affected. You'll be able to pay off your fixed debt in the allotted time frame and be debt-free before long.
At Prudent Financial, we're one of the lowest-cost equity lenders in the GTA. All you need to qualify is a car or home, or comparable asset to use as collateral.
Contact us today to see if you are eligible for one of our loans. We can also help assess debt, make a budget, and more.
Call 1-888-852-7647 or visit www.prudentfinancial.net for a free consultation.