Halloween is right around the corner — and if the scariest part of the holiday for you is your budget then we've got you covered!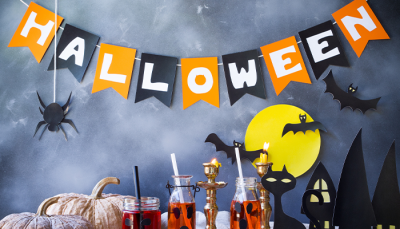 The Halloween season comes with a lot of expenses – costumes, parties, candy, decorations, the list goes on. We've got tips to stick to your Halloween budget no matter the expense so that the only thing scaring you on October 31 are the ghosts and ghouls.
1. Hit the Thrift Store
One of the priciest parts of Halloween by far can be the costumes. You want to go all out on a fancy get-up, but your budget is telling you to stay dollar store chic. This is where DIY Halloween costumes can save the day.
You can still look luxe and creative without feeling the pinch in your budget. Thrift stores, like Value Village and The Salvation Army, typically have robust Halloween costume sections with new pieces for less than at department stores. You can also forgo the new costumes and head straight to the "Used" section. Shop the inner racks to piece together the perfect outfit for a fraction of a cost.
You can use these same tricks to find unique decorations for cheap!
2. Order Online
While you can certainly spend more shopping online, it is possible to find great deals, too. Buy and sell groups, like Facebook Marketplace or Kijiji, will sometimes have used costumes and decor for a fraction of the cost. You might also be able to find that perfect unique piece on eBay at a steal.
You could flip this around as well and sell your old costumes and decorations online to bring in a little extra profit for this year's Halloween necessities.
3. Organize a Swap
How many people do you know who have old costumes they never wear again? Get together a group of friends and trade costumes or mix and match from years past. This could even be a great idea for a Halloween party. Instead of coming in costume, bring old costumes and prepare to get dressed up at the party!
You can do the same thing with Halloween decorations. Swap out old décor for new-to-you pieces by trading with friends and neighbours.
4. Get Creative
Think outside the costume box. While everyone might be going as a witch, a pirate, or a princess (and these can be fairly easy and affordable to DIY) you might also consider going as something more unique – and easy on the budget.
Turn to pop culture for inspiration. You might dress as your favourite TV character (think Dwight Schrute from The Office or Eleven from Stranger Things).
Many creative costumers have also turned their problems into costumes, like dressing up as student loans, or going for a play on words, like "when life gives you lemons" (dress in yellow, carry a basket of lemons, and use a nametag with "Life" written on it).
Need more inspiration? See this list of TV and movie inspired costumes from Pop Sugar: https://www.popsugar.com/smart-living/DIY-Costumes-From-TV-Shows-Movies-38523628
And this list of punny costumes from Good Housekeeping: https://www.goodhousekeeping.com/holidays/halloween-ideas/g3848/pun-halloween-costume-ideas/
5. Buy in Bulk
While you may have aspirations of being that house giving out the full-sized chocolate bars, it's often more cost-effective to go small —mini-chocolate bars, suckers, etc. Look for coupons or two-for-one deals leading up to Halloween.
Set a clear budget goal for this and stick to it. Buy only what you can afford – even if it isn't name brand. And remember, when the candy's gone, it's gone. There's nothing wrong with turning off your lights if you've exhausted your supply.
Looking for more funds this Halloween season? Prudent Financial can help. We offer same-day cash loans based on equity in your assets.
Contact us for help with your Halloween budget. Call 1-888-852-7647 or visit www.prudentfinancial.net.