It's used car trade-in time!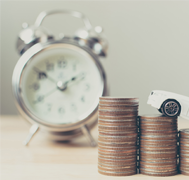 Winter is almost here, and if you're driving a problematic old car it's best to find a replacement before the snow comes.
We're digging into the whys, hows, and what to considers for trading in your car before winter.
Why: Weigh the Costs of Repair vs. Replace
Canada's winter driving is notoriously hard on cars — and if your current vehicle isn't up to the task, you'll either need to think about winterizing it or trading it in.
However, winterizing can quickly get expensive if your car is older. From changing out winter tires, to replacing any burnt out bulbs, to making sure the engine is still running smoothly, and beyond, winterizing an old vehicle can sometimes cost more than it's worth.
Carefully consider how much it will cost you to make your current car safe for winter vs. how much you can receive for the trade-in value. You may just find trading in your vehicle is the better choice.
Why: Safety Matters
Many older cars just don't have the safety bells and whistles that newer cars do.
All-wheel drive, automatic braking systems, remote start, and more are all particularly important to have for the winter season. But you aren't as likely to find them on older models.
While it may not fit your budget to buy a brand-new car with these features, you can often find a used vehicle at a more affordable price point with the same safety regulations as a new model.
If you are buying a used vehicle, check with the dealership to see what safety testing they perform. At Prudent Value Cars, for example, our safety testing goes far beyond Ontario testing standards.
How: The Best Time of Year to Trade In
Just before winter hits can be the best time of year to trade in your car. Many dealerships are preparing for new 2020 models to come out and 2017, 2018, and 2019 models are being traded in, creating more opportunity for you.
You can get a relatively new car for a fraction of the price!
Some dealerships may even offer sales on older inventory that must go. Check out our blowout sale at Prudent Value Cars, happening until October 31!
How: Securing Car Financing
Even if you trade in your car and get value from it, you may still need financing to make up the difference of the new vehicle.
At Prudent Financial, we offer up to $25,000 same-day car loans even for those with bad credit. If you shop at our Prudent Value Cars dealership, you can buy and drive away on the same day. And if you choose to shop elsewhere, we also offer financing for car dealers across the GTA.
Learn more about our bad credit car financing: https://www.prudentfinancial.net/bad-credit-personal-loans/
Trade in your car before the snow comes. Call 1-888-852-7647 or visit www.prudentvaluecars.com for more details.