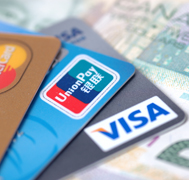 A secured credit card is one of the best ways to rebuild your credit.
While credit cards have their dangers, like racking up a big limit with no way to repay it, they are also essential for many things in our society:
You need a credit card to book reservations.
Comes in handy on bigger purchases.
You need it to shop online.
To secure vehicle rentals and more.
Plus, it's very unusual to not have a credit card, and admitting you don't have one because of bruised credit can be embarrassing.
Beyond that, as we mentioned above, credit cards — at least secured credit cards — are one of the best ways to rebuild your credit.
With a secured credit card, your payments report to your credit bureau, and the limit is based on the amount you have deposited beforehand (kind of like a debit card, but it can help with credit repair).
The only problem is when you're trying to figure out how to apply for a secured credit card, you also have to knowwhere you can get a deposit.
Even if you have bad credit and banks or finance companies have refused to help you, there are lenders that offer loans to people with a bad credit history – even those who have filed for bankruptcy or filed for a consumer proposal.
A personal loan could be your answer. You can use a personal loan to raise the deposit you need for the secured card. Most personal loans come with a fixed interest rate and repayment schedule, so you know exactly what you will have to pay every month. Set the loan repayment over a short period so it is paid off quickly.
When you're looking for a personal loan, make sure that the lender offers a fixed repayment schedule and reports to the credit agency (no payday loans!). And be sure that you have a plan to repay it.
When you use this method, you'll have two pieces of new credit going to your credit report.
How much of a deposit do you need?
Set a limit that is big enough to give you the flexibility that you need. If your goal is credit rebuilding, choose a deposit that shows lenders your ability to repay a larger sum.
At Prudent Financial, you can borrow with your car. We offer same-day loans of up to $20,000 if you borrow against a paid-off vehicle that is six years old or newer. All loans are open and can be paid back at any time. Plus, our interest rates are the best in the financial industry for people with bad credit.
Learn more about our personal loan options today.
Call 1-888-853-7647 or visit https://www.prudentfinancial.net/bad-credit-car-loans/.