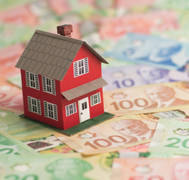 If you've been fortunate enough to lock into a low first mortgage rate, then you probably don't want to lose it. Especially as Canadian interest rates increase, you'll want to do what you can to keep your first mortgage rate as low as possible.
However, if you were considering refinancing your first mortgage, this may not be the best news. Mortgage refinancing to access available home equity might mean a new, sometimes higher mortgage rate, which is probably not what you want.
Even if you are able to secure a still-low first mortgage rate, breaking your first mortgage to refinance can come with financial penalties if you have a closed contract and change it early.
There is a solution, though. You just have to be careful about the types of home equity financing you consider.
If you want to access your home's equity without affecting your low first mortgage rate, here are some home equity financing options you may want to consider:
Second Mortgage
A second mortgage can allow you to access available home equity without breaking your first mortgage terms. The interest rate on a second mortgage might be higher than your first mortgage, but it will still be lower than other forms of debt, such as credit cards or lines of credit.
This can be a good option if you need to consolidate high-interest debt into one monthly payment. You don't have to amortize a second mortgage over 25 years. You can choose to amortize it over five or 10 years and pay the debt off faster.
However, a second mortgage still comes with fees, such as broker fees, legal fees, administration fees, and potentially an appraisal. And depending on your credit score, your financing options may be limited.
Home Equity Personal Loan
A home equity personal loan makes the equity in your house work for you. This is not a secured loan or a second mortgage — it's simply a loan that you can qualify for by being a homeowner and having equity available.
Home equity loans are a lot faster to arrange than mortgages, and they're also less expensive than other personal loans. Most will come with a fixed interest rate that won't fluctuate. This means that you'll be able to plan out what you need to pay, when you need it pay it, and be able to set money aside each month.
Whereas a second mortgage or a secured mortgage can take up to two weeks to complete, a home equity personal loan can often be opened on the same day. And you're not subject to the extra fees you might be if you went for a second mortgage (broker fees, legal fees, etc.)
This can be a great option for consolidating high-interest debt, doing a renovation, paying for tuition, or funding a celebration, like a wedding.
Both of these options can allow you to access your home's equity without disrupting your first mortgage, so you'll be able to keep your low interest rate while getting the funds that you need.
In either case, you'll want to secure the lowest interest rate available to you — which is why you should consider Prudent Financial Services. At Prudent, we offer fully open first mortgages, second mortgages, third mortgages, and home equity personal loans in the GTA.
We offer the most competitive rates no matter your financial situation. We work with people who have good credit, people who are self-employed, and people who have bad credit.
Contact us today to learn more. Call 1-888-852-7647 or visit www.prudentfinancial.net.