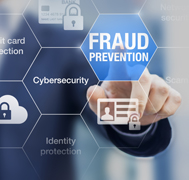 In part 1 of our 3-part identifying fraud blog series, we took a look at phishing schemes – those scams where fraudsters attempt to scare you into sharing personal information or clicking on a link that gives them access to such information. We're following things up with a blog that talks about fake websites, specifically those being built and targeting the lending community.
Here is how it works. Hackers register a domain that is similar to the domain of the company they are trying to imitate. They then copy all of the company's information onto the new website to make it look as legitimate as possible.
Once the website is active, the company will then rewrite the loan application to gather information. This information is then sent directly to the phishing scam artists. Once that information is in their hands, they can use it to access personal financial information.
Furthermore, often they will use that company's trusted reputation to convince people to provide an upfront registration free, usually a few hundred dollars. Some scammers will also text potential victims pretending to be the company, sending them to the fake website.
Unfortunately, attempts to find out who the fraudsters are will often prove fruitless. Many of these websites are registered overseas – most often in Russia – and are privately registered in Panama. Even reporting these scam artists to the RCMP proves difficult because the scam artists are cleverly cloaked in a series of technical safeguards that make them very hard to nail down.
The onus is on reputable companies to warn their clients about these potential scam artists. A warning note is often featured on the homepage of many reputable, legitimate loan companies warning of such scams. These warnings should be very visible. Additionally, most reputable loan companies will never contact clients via text, and there should be no upfront fees charged for loan services. Both are red flags that should be cause for further investigation.
The practice of building fake websites has become a plague for the lending community. The entire industry has become vulnerable, and many companies are working diligently every day to warn customers about such schemes in order to help them best protect themselves.
At Prudent Financial, we take our reputation – and your security – very seriously. If in doubt, give us a call and speak with a representative before providing any information online!
Visit https://www.prudentfinancial.net/ or call Toll Free: 1-888-852-7647.