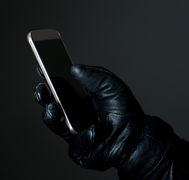 We're finishing off our 3 part identifying fraud series talking about phishing schemes – scams designed to steal your financial information, and ultimately your money. Over the last few years, such schemes have become increasingly common, and thousands of Canadians lose money because it has become incredibly difficult to spot a scammer. This is especially true with phone and text scams, which are the focus of our blog this week.
Every year, thousands of people lose money to telephone scams — from a few dollars to their life savings. The con artists on the other end of the line will say anything to cheat hard working people out of money. Some may seem very friendly or legitimate, even claiming to work for a company you trust. This is why due diligence is so important.
If you receive a phone call or text message that you have even the slightest hesitation with, here are some things to ask yourself:
Who's calling and why? Have you had any type of interaction with the company calling you before? If so, did any of your previous interactions sound/look the same?
What's the rush? If the 'business' calling you needs something immediately, that's a major red flag. Anything that you need to provide 'right now' shouldn't be provided at all.
If it's free, why are they asking for money? Question fees you were previously unaware of, or don't think make sense according to the business you're speaking with.
Why am I 'confirming' my account information — or giving it out? Some callers have your billing information before they call you, as this often makes the scheme more legitimate. Some are simply trying to get you to say 'okay' so they can claim you approved a charge. Unless you are 100% certain the person on the other end of the line is the real deal, don't give any information over the phone.
When in doubt, often a simple Google search will yield more information. Search the name of the company allegedly calling or sending the text, or the content of the call or text message. Often such scams are written about online to help warn others of the dangers.
If you get a phone call or text message from someone you don't know who is trying to sell you something you hadn't planned to buy, say "no thanks." And, if they pressure you about giving up personal information — like your credit card or SIN — it's likely a scam. Hang up and report it to the RCMP right away.
At Prudent Financial, we take our reputation – and your security – very seriously. If you are concerned about what you believe to be a phone or text scam, give us a call and speak with a representative before providing any information over the phone!
Visit https://www.prudentfinancial.net/ or call Toll Free: 1-888-852-7647.