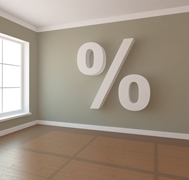 Back in April, despite suggestions of an increase, the Bank of Canada chose to keep Canadian interest rates steady at 0.5%. However, even with this decision, economists still believe that a hike is coming – probably in early 2018. So, how would you fare if interest rates were to rise?
Concerned that your finances would seriously feel the pinch? You're not alone. According to a recent Global News article, "half of Canadians would be concerned about their ability to pay their debts if rates were to go up, according to a new Ipsos poll."
The thing most Canadians get confused about – and it's a big problem – is that a 1 percentage point rise in interest doesn't mean your interest rate goes up by 1%. For example, if you have a personal line of credit with a variable rate interest rate of 3%, and the interest rate goes up by 1 point, that 3% rate will increase to 4%. The means an overall increase of 33%. That's a heck of a difference – one that could mean several hundred dollars more a month.
Read more on this here: http://globalnews.ca/news/3370756/could-you-handle-a-33-per-cent-interest-rate-hike-on-your-debt-if-not-start-paying-it-off-now/.
If this bit of news has you worried about what's to come, what can you do in the meantime to get your financial house in order? The most important thing is to do something about your debt!
One of the best ways to do that is by consolidating the various smaller debts into one monthly payment. An even better idea is to unlock your home equity to do it. A conventional mortgage is one way to go about this, but if you have a lot of equity there is an even easier path to get there quickly and more cost-effectively – an unsecured home equity loan.
Unsecured home equity loans:
Don't require both homeowners to sign
Don't come with mortgage closing costs like lawyer fees, appraisals, etc.
Don't take a significant amount of time to close – they can close as quickly as 1-2 days
If interest rates do go up this year or next year, many Canadians may find themselves in financial hot water. The best way to be proactive and get your ducks in a row is to deal with your debt now, before the inevitable happens.
At Prudent Financial, we can help you prepare for an increase to interest rates with an unsecured home equity loan that works to consolidate your debt.
Get in touch today by calling 1-888-852-7647.