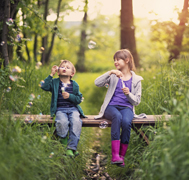 With summer just around the corner, it is time to start planning those family activities. Don't want to break the bank? We get that! Here is a list of great outdoor summer activities in the GTA that you can do on the cheap to help make the most of what Toronto has to offer over the warm summer months.
Get cheesy at the Mac and Cheese Festival. Yes, you read that right – a festival for all things mac and cheesy – what could be better? Admission is free and there will be chefs, cooks, and food entrepreneurs from all over Toronto putting their own spin on classic mac and cheese. Fill up on cheesy goodness and enjoy the street performers and musicians. But get planning – it happens June 2-4.
Cool off at one of the many public pools and splashpads located throughout the city. All you need is a towel and your water-wings. Just be sure to check the hours of operation and maintenance before heading out.
On Canada Day, head to the Beaches for an awesome fireworks display over the water. Don't forget your lawn chairs, some cold drinks, and the bug spray.
Get a taste of the islands at one of the many events featured during the Toronto Caribbean Festival. For example, you can check out the Carnival in the Fort on August 7 which will feature Pan Steel drum orchestras, live Soca and Calypso music, Caribbean Canadian DJs and lots of vendors serving up the food of the islands. The event is family-friendly and totally free.
Head to Harbourfront Centre for a free film. Stroll down every Wednesday night from July to August, starting at dusk, and you can check out the free screenings of some much-loved movies. Bring your own popcorn to make it a completely free night! More free screenings can be found in both Yonge-Dundas Square and St. James Park.
Check out what the next generation of Torontonians has to offer the world at Youth Day Toronto, a free annual festival celebrating young people showcasing their music, art, dancing, fashion, film and photography. Held at Yonge-Dundas Square, the event features 12 hours of non-stop performances by some amazingly talented youth. Admission is free and it takes place July 23.
Escape the city and take the short ferry ride across to Centre Island. There you can get lost in the William Meany Maze, go for a swim, try to catch a ghost at the Gibraltar Point Lighthouse, or play a round of disk golf.
This year, you don't need to spend a lot to get a lot. These free or cheap outdoor summer activities make enjoying Toronto easy.
Want a little extra in your pocket to make the most of your summer?
Prudent Financial can help. Call us today at 1-888-852-7647.