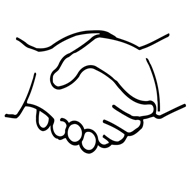 Many Canadians are struggling financially – this is an undeniable fact – and with the holidays right around the corner, these struggles can become exponentially greater. When a friend is dealing with money problems, it can be hard not to notice, and for many of us, it is a challenge that we find difficult to help with. It can be hard to stand by and watch family or friends suffer. Start by taking a step back and put yourself in their shoes to understand their situation better. And remember, when a friend is in dire financial straits, you can help – in a number of different ways.
Here are some tips to help friends with financial problems.
Don't lend them money. This may seem like an odd one to start with, but it is actually really good advice. When a friend asks for money, lending it to them is actually quite counter-productive. It can be really tempting to help by just handing over the money, but lending money can quickly turn ugly, and can ruin friendships, creating feelings of obligation and resentment. The same goes for co-signing on a loan.
Do give them your time – after all, it is more valuable anyways. When support and encouragement is required, be their leaning post. Even when you can see finances are strained, you may not realize the extent, or the root case, and sometimes just having someone to talk through the situation can help a person realize that they need to make a change.
Try to remember their circumstances, especially during the holidays. For example, don't suggest an expensive secret Santa exchange if you know a friend is struggling financially. Instead, have a casual get together and just enjoy the company of friends without the stress of gift giving.
Encourage your friends or family members to seek out reliable, realistic options to clear up debt or get finances back on track. For example, if their credit is not stellar, but they need cash and are turning to payday loans to make ends meet, perhaps suggest getting a personal loan instead – saving them big time on unnecessary fees and helping them rebuild credit.
If a friend or loved one is constantly complaining about their finances or skipping outings because they can't afford to join, you may feel powerless to help. You are not – just being around and having the right advice to offer is helping. In the end, that person will need to make the decision on their own, and make the life changes to stop the financial problem, but your support can help them get started on the road to financial recovery.
Prudent Financial offers loans to even the most bruised credit – your friend may just find that this is the best way to recover. Call today for more information: 1-888-852-7647.