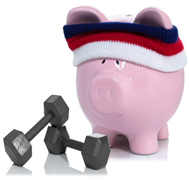 It is time to get saving! Have you looked at your budget recently? Do you even have one? Saving money and keeping finances on track is a great way to prepare for the future and mitigate any unforeseen expenses.
We know that people take in information in a variety of ways, so this week we thought we'd share a great visual from our friends at H&R Block – an infographic on creating and maintaining a strong household budget! Check it out, then use the advice to get your own household budget started!
Tips:
Find and use a budget template to track all financial income and expenditures
Identify a goal – this will help keep you motivated
Keep track of your debt – this will help you avoid getting in over your head
Look for ways to cut back
Monitor your progress and make changes when necessary
Watch your savings grow!!
A strong household budget can make all the difference when it comes to managing your family finances – sometimes you just need a little help. Prudent Financial can provide a personal loan at a competitive rate to help you get things back on track. Contact us today at 1-888-852-7647.