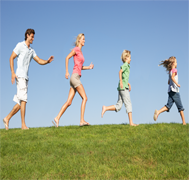 Summer is finally here. We've spent months cooped up inside and now it is time to break free. However, that can often mean more money spent trying to enjoy all that Toronto has to offer. To help we've compiled a list of great free things to do in Toronto this summer. Get out there and enjoy!
Take a stroll through Kensington Market. This artsy neighbourhood is host to some   funky vintage shops and fun retro furniture stores you can visit at your leisure, and then you can grab some cheap grub to make the day a budget friendly success.
Take in the rural in the midst of the urban. Riverdale Farm is a literal farm within the sprawling city. A vast 7.5 acres of green space right in the downtown core is home to cows, horses, sheep, goats, pigs, and chickens. Take in the scenic pathways through wooded areas, around ponds, and into butterfly-herb-flower-vegetable gardens.
Don't forget to celebrate the nation in style with the free annual fireworks extravaganza on Canada Day at the Beaches.
Spend a day at the Toronto International BuskerFest for Epilepsy and catch some amazing artists and entertainers the whole family will enjoy, and for a great cause! This festival runs in late August – check more details here: http://torontobuskerfest.com/whatsup_time_location.php.
Looking to take in a more sophisticated-type activity? The Canadian Opera Company offers a free afternoon series with performances in various music genres in their airy, outdoor amphitheatre.
Cool off with a day at the beach. Two of Toronto's most popular beaches are Cherry Beach and Bluffers Park Beach. Pack a picnic lunch and don't forget the sunscreen.
Visit the Allen Gardens Conservatory. Inside the over 16,000 square feet of greenhouse space you'll see lush tropical plants from all over the world and stunningly beautiful flowers. Get the camera ready for some awesome 'nature' shots.
Take in an evening of culture. The Art Gallery of Ontario (AGO) is free on Wednesdays between 6:00 to 8:30 P.M. The gallery is home to over 40,000 works, including the largest collection of Canadian art!
Almost free: Take a tour of the ultimate walk-in shoe closet. The Bata Shoe Museum offers a pay-what-you-can entrance fee each Thursday evening between 5 and 8 pm, so you can choose what you pay for this great experience.
Toronto has so much to offer both those who live within the city and those visiting for the day – and it doesn't have to cost you an arm and a leg to enjoy it all!
Need a little help with those summer bills to be able to enjoy the warm weather without the stress?
Call Prudent Financial today at 1-888-852-7647.