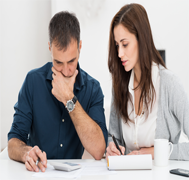 If you are stressed over bills and fielding collections calls as a result of an overdue debt, know that you are not alone – hundreds of Canadians face this reality every day. How you settle a collection debt depends on the type of debt that you owe. This blog deals with how to settle a debt in collections that has arisen because of things like defaulted credit cards, loans, unpaid cell phone bills or other unpaid contracts.
Once a creditor assigns a debt to a collection agency, that collection agency often has settlement parameters it can follow where they can accept less than the amount that you owe. This is often 70-80% of the debt, but some collection agencies will accept as little as 50%.
If you believe you could pay your debt that is in collections if it were reduced, here is what to do:
Propose to the collection agency the percentage of the debt you would be able to pay. The collection agency will often come back to you and tell you the best settlement they can offer.
Ask for the settlement offer in writing.
Render payment by certified means.
Ask for confirmation that payment has been received and that the account is settled once payment has been made.
Write a letter to Equifax and attach copies of your letters and proof of payment – send it to Equifax by registered mail. This will ensure that your credit report is updated.
Once your credit report is updated the collection item will report a zero balance and indicate that the account has been settled in full.
Some people think that if they wait long enough, a collection item will go away on its own – it won't. Every time the creditor assigns the debt to a new collection agency, a new item will report and that will remain on the credit for up to 7 years as long as it is unpaid. Once settled, that item is removed from your credit 3 years from when it is settled (collection items specifically) – but only once it has been settled.
If you really want those calls to stop, and want to work on rebuilding that bruised credit, a personal loan may be the way to go. This can pay off the settlement in full and bring you back up-to-date with your bills.
Prudent Financial offers personal loans to those with bad credit, even those in consumer proposals or undischarged bankrupts.
Call us today for more information: 1-888-852-7647.