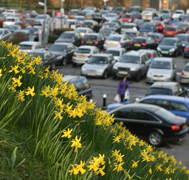 Spring seems like the perfect time for buying a used vehicle — which is why so many people go car shopping when the weather turns warm.
People don't typically buy vehicles during the winter because of weather conditions. This shifts supply and demand. When spring comes, everyone hits the market to buy. In turn, you will see that used vehicles are more expensive.
For example, in March 2017 187,540 light vehicles were sold in Canada, but in April 2017 197,203 light vehicles were sold — nearly 10,000 more.
And as the year goes on, used vehicle prices tend to increase more. For example, Canadian Auto Dealer reports that the average cash price for a used 2013 Honda Civic in December 2016 was $13,563, but by December 17, the average cash price for the same car was $14,126.
Put the two statistics together and the message is clear — you need to beat the rush. March is the ideal month for buying a used vehicle because it's warm enough that you can comfortably look around used car lots, but it's not quite spring, so prices are still good.
If you're shopping for a used car, you want to work with a dealer capable of arranging your financing. If you have bad credit, a good dealer should be able to help.
Some tips to stay safe while buying a used vehicle:
Beware of dealers who charge upfront fees or include exorbitant administrative costs in the bill of sale.
Make sure full e-testing and certification is done.
Make sure the dealer offers a guarantee and warranty of some kind.
Look for low kilometres.
Check a car's history report to review past ownership, any accidents, liens, etc.
At Prudent Value Cars, we are committed to getting you into the best car for your dollar – and we have the used car financing to match! We offer superior pre-owned cars to people with bad credit in Toronto and the GTA.
Don't get in over your head just for all the bells and whistles.
Get all the bells and whistles at a better price: call 1-888-852-7647 or visit www.prudentvaluecars.com.