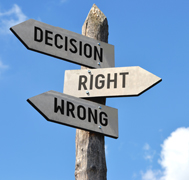 On the positive side, bad credit loans are often essential for credit repair. If you have poor credit, one of the best ways to improve it (besides paying off existing debts) is by seeking new credit that you manage responsibly.
On the negative side, because those who need bad credit loans are often in a vulnerable financial situation, some organizations that offer loans for people with bad credit take advantage. The "solutions" they present can actually make credit worse and leave your finances in the dust.
How can you tell the difference? Here's our guide to picking the best bad credit loan provider for you.
Payday Loans
While payday loans may be popular, they can do serious harm to your credit. They have VERY high fees, a short repayment schedule (often as short as two weeks), and inflexible repayment terms — if you miss a payment or can't pay in full, you're going to be on the hook for even more money. To make matters worse, payday loan operators don't report to credit agencies, so if your aim is to improve your credit, it will do little for you.
Pawn Shops
Like payday loans, pawn shops have very high fees and don't report to credit agencies.  You're also in danger of losing your items if you can't repay the loan. It's a very high risk for little reward.
Finance Companies
Some finance companies offer loans for people with bad credit. Different smaller finance companies deal with different types of clients. For example, Prudent is known for helping people who have gone bankrupt (even undischarged bankruptcies), people who have filed consumer proposals, and people who have bruised credit. A major benefit to borrowing from a finance company is that most will report to the credit agencies, so a loan will actually help with credit repair so long as you repay it on time.
If you're considering finance companies that offer loans for people with bad credit, make sure the company:
Is reputed and has been in business for a long time.
Has an office.
Is not asking for upfront fees from you.
Prudent Financial has one of the lowest rates for bad credit loans in Toronto and the GTA. Get a loan today.
Call 1-888-852-7647 or visit www.prudentfinancial.net.