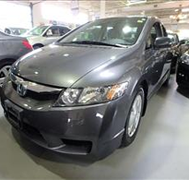 We've all heard it before – cars depreciate in value the minute they are driven off the lot – and when it comes to new cars, this is a pretty fair statement. This is one of the main reasons that used car buying has grown in popularity over the last few years – there is a great deal of money to be saved when it comes to used car financing – and people have come to appreciate that a great deal can be found with the purchase of a used car.
That being said, finding the perfect second-hand vehicle shouldn't be a matter of luck – there is some legwork involved – but that legwork can end up saving you a ton. Check out these used car buying tips to help avoid paying too much or ending up with a dud.
Research. Don't just head out with no ideas in mind regarding what you are looking for. Think about what you will be using the car for, what types of driving you do on a regular basis (short trips or long distance), passenger accommodations, trunk space, and which features are the most important. If you need a car to commute every day, for a significant distance, a huge truck may not be the best choice for fuel savings, or if you need to ship the soccer team back and forth to the field a few times a week, a two-seater isn't going to be much use.
Have a budget in mind. Once you've determined what you are looking for, figure out exactly what you can afford. Sit down and set a serious budget. When it comes to used car financing, don't take out a mortgage on a car – if you can't afford the payments over, say four years, the car is probably too expensive – only buy what you can afford. Also think about a down payment. Do you have any extra funds stashed away that you can dedicate to this? If so, this can help reduce those monthly payments and make them more manageable.
The lower the mileage, the longer the car will typically last. A car may be listed at a super low price, but if the mileage is sky high you will likely be shelling out big bucks in the short term. Something under 100,000km is usually great – or even a little higher. That being said, low mileage is not the be-all-and-end-all – and if low kms are not in your budget, just pay close attention to the mechanics.
Get a history lesson. Make sure that the dealership provides a car history report so that you can check out a car's past. This report features information on previous owners, any accidents or major repairs, liens or claims that may cause problems in the future.
Take a closer look. Test drive the car for more than 5 minutes to get a good feel for the vehicle and to make sure that there are no issues on the road. Check the car for rust, give the tire treads a thorough once-over, confirm that all lights are in working order, that all doors open without issue and check under the hood (even if you're not a mechanic, checking for rust or areas that may look problematic is a good idea).
When you are ready to start your next search, use these used car buying tips to get the best deal out there. Concerned that your credit may not give you many options as far as used car financing? Call Prudent Financial today at 1.888.852.7647. We offer used car financing to individuals with bruised credit – even discharged and undischarged bankrupts.