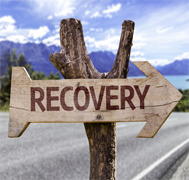 For a number of reasons, filing for bankruptcy in Canada has become a popular debt relief option over the last few years. It is true, bankruptcy does hurt credit but it is often the most viable option for many who can't pay debts that have become too high to manage. Additionally, if bankruptcy is being considered, credit has probably already been negatively impacted, and the longer those debts are left ignored, the bigger the problem gets.
If you think that you can't financially recover after filing for bankruptcy in Canada, we urge you to think again. You are not sunk and your credit can bounce back after bankruptcy – it's up to you and the steps you take.
Here are some filing for bankruptcy myths and facts to help you best determine how to recover:
Myth: Once you've filed for bankruptcy in Canada, there is nothing you can do to rebuild credit until you have been discharged.
Fact: You don't have to wait to be discharged to rebuild – the sooner you start rebuilding the better off you will be.
Myth: Your credit will be bad for 7 years.
Fact: The bankruptcy will be on your report for 7 years, but with positive behaviour many start qualifying for unsecured credit at the bank 2 years after discharge with 2 years of strong, rebuilt credit.
Myth: Payday loans can help you rebuild credit.
Payday loans are useless as far as rebuilding as they don't report to your credit report. Instead, consider getting a secured card. Using it and then paying it off regularly builds good credit – this behaviour shows that you are committed to improving your credit. And yes, a secured card is great as far as rebuilding credit, just keep in mind you should not use more than ½ your limit as a balance!
Personal loans are actually the best when it comes to rebuilding credit. This is because they prove that you can pay installments overtime. Also, because they don't have a revolving balance they don't make it seem as though you've racked up debt (and remove the temptation to continually do so). They are also beneficial because they typically involve a higher initial credit limit, especially if you are a higher income earner, than an initial secured credit card, and are unsecured which shows that you can be trusted with the money.
If you want to speak to a lender with experience providing loans to individuals with bad credit, including both discharged and undischarged bankrupts, call Prudent Financial today. We can help you safely rebuild your credit after filing for bankruptcy in Canada. 1.888.852.7647.