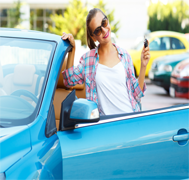 It is common knowledge that a car depreciates in value as soon as it is driven off the lot. It is thanks to this that used car buying remains a popular option for those looking to trade up when their vehicle is due for an upgrade. Used car financing represents a valuable resource for those looking to save. Knowing this, we've got some tips on used car financing and buying a used car.
We don't need to tell you about the benefits of a newer used car. Low kilometres, the balance of a warranty, even the peace of mind that a car is still in peak condition – without the brand new price tag – is a major draw for those who recognize the value. So, instead of trying to convince you of what you already know, let's talk dollars.
Firstly, it is true that many are drawn in by those flashy new wheels and the low monthly payments. Sure, sometimes those monthly payments seem unbelievable. A brand new car for what seems like the best payment ever. And yes, the payments may be low, but that's how the dealerships lure you in. With low monthly payments. But how long are you making those payments for? One of the most important things to think about when it comes to financing a new car is the payment term. If you are getting in a brand new car for a 7 or 8-year term, you really should reconsider. If, in order to get a realistic/affordable monthly payment, you have to agree to mortgage-like terms, you probably can't afford that car.
Used car financing can be done a few different ways, but the most popular are through the dealer and with conventional car loan financing.
When you have done your research, established a budget and found the perfect car that meets your needs, perhaps the dealer can get you the best rate. If not, getting a loan to pay for the car has its advantages: you can shop around, find the best rates and terms, you don't have to deal with dealer upsells or aggressive selling tactics, and you can be sure that you are only spending what you can reasonably afford each month.
Want a few tips for buying a used car before you head out? We've got 'em: httpd://www.prudentfinancial.net/used-car-buying-tips-used-car-financing-for-dummies/.
At Prudent Value Cars, we are committed to getting you into the best car for your dollar – and we have the used car financing to match!
Don't get in over your head just for all the bells and whistles. Get all the bells and whistles at a better price: 1.888.852.7647.