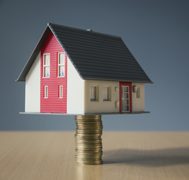 It's tough when you have a ton of equity in your home that you can't use.
This happens often when people who have parents or spouses with separate finances on the property title.
You don't necessarily want to share every little bit of your financial business and you may even be looking to borrow to help the other person on title – like caring for aging parents.
But any financing that involves registering a mortgage will require all legal homeowners to sign. So, accessing home equity can seem like a catch-22.
If you're in this position, there is a solution.
The best thing to do is to look for a lender who offers financing that is based on your portion of home equity but is not registered on your home. This way you can avoid mortgage closing costs, you get your money sooner, and you don't have to tell others what you are doing with your money.
One example of this kind of loan is here at Prudent Financial. We offer home equity personal loans.
These loans are based on your past money habits and the simple fact that you're a homeowner — no co-signor needed.
This isn't a second mortgage, or a refinancing of your first mortgage, so there is no need for anyone else on your property title to know if you decide to take out a home equity personal loan.
This can be a great option if you need to:
Consolidate debt.
Pay for medical or dental bills.
Fund college or university tuition.
Access money for a special event, like a wedding.
Home equity personal loans are also different from mortgage financing in several other ways. They're faster to arrange, for one thing. You can usually get your loan on the same day you open it. They're also cheaper than most other personal loans, and they have a fixed interest rate so it's easy to make a repayment schedule.
To be eligible, you need at least 50% equity to the value in your home.
Whatever your reason for needing money without having the other people on title sign, a home equity personal loan could be your answer. Contact Prudent Financial today to find out if it's for you.
Call 1-888-852-7647 or visit www.prudentfinancial.net.