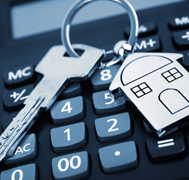 With interest rates on the rise, high credit card debt can be even more expensive to pay it off.
If you have home equity available, you might want to use some of it to pay down your bills, but what if there are other people on title?
You might:
Have other people on the property title, like parents, who don't know your financial situation.
Have other people on the property title who live in another province or country and can't physically sign.
You and your spouse may have separate finances.
In any scenario, you have a need: you want to take out home equity, but you don't want to ask (or can't ask) the other property title holders to sign.
You may also be considering mortgage refinancing but be put off by the mortgage closing costs and lengthy wait periods to actually get your money.
You want to access home equity without having to deal with an increased mortgage rate or longer amortization period.
There's a solution for that: a home equity personal loan.
Home equity personal loans are based on your past money habits and the simple fact that you are a homeowner — no co-signor needed.
They are different from a second mortgage or refinancing your first mortgage.
There are no mortgage closing costs involved.
Your mortgage interest rate doesn't change.
Your other mortgage terms stay the same, too.
They're faster to arrange.
If you need money quickly, you can get it with a home equity personal loan. In fact, you can usually get your loan on the same day you apply for it! This is a great option if you are looking to use home equity to pay off high-interest credit card bills.
At Prudent Financial, we offer home equity personal loans that can help you manage credit card debt, home renovations, medical or dental bills, and much more.
All you need to qualify is at least 50% equity to the value in your home.
Contact us today to find out if a home equity personal loan is right for you.
Call 1-888-852-7647 or visit www.prudentfinancial.net.