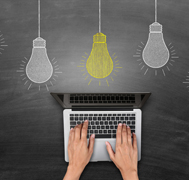 When you have less than stellar credit, but are looking for funding, you may be concerned that your options are few and far between. Since lenders base their decision to lend upon your past and current credit behaviour, having bad credit can make the process of obtaining any type of financing difficult. Don't lose hope – there are different types of bad credit loans out there, and lenders willing to lend to you even if your credit isn't great. Just remember to read the fine-print.
When you need quick money, but you have bruised credit, here are a few of the types of bad credit loans that may be available to you.
Payday loans – This one is first on the list not because it is the #1 option, but rather because it is the easiest to get. While payday loans are convenient (most don't do a credit check), they are very expensive! Taking out one payday loan is often like digging a deep hole and jumping in, as their short terms make it really tough to pay off (due on payday). If you start rolling them over it can mean huge financial consequences. Furthermore, one of the most important things you can do when you have bad credit is work to rebuild – but since a payday loan doesn't report to the credit report, they won't help at all. Payday loan companies make it easy because their interest rates are sky high and they know they will inevitably make a great deal of money, especially because many borrowers roll their loans over, resulting in even more interest and higher fees.
Credit cards – While not as easy to get as payday loans, credit cards are one of the easier to obtain options. If you can get one, it can be convenient – but just be wary of how much you use it and make sure to make more than the minimum payment every month. If you max out your credit card, this can further bruise your credit and it will be hard to pay off. The other downside of credit cards is the high interest.
Personal loans – A personal loan is the best option, even if you have bad credit. They are convenient and often the best choice because the interest is fixed, you know the total balance, you have fixed and equal monthly payments, and it reports to the credit report. If you are able to obtain a secured loan (a home equity loan for example), you will pay less in interest. These are harder to get with bad credit, but there are companies willing to offer second chances when lending.
Something to keep in mind is that, the more unsecured the credit is, the more it will likely cost you in the end. This is because lenders don't have any security (something which you are borrowing against).
At Prudent Financial, we know that trying to obtain credit when your past behaviour isn't overly promising can be tough. If you want to know more about how we can help with the various types of bad credit loans, call us today at 1-888-852-7647.