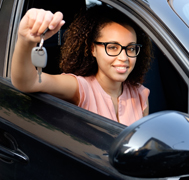 If you're getting ready to start the process of buying a car, this week's blog may give you something to think about as far as how to start the process.
It's a common practice when most of us are buying a car: we start with an idea in our head of what we want, then head to the various dealers in search of the perfect vehicle, usually with a certain budget in mind. Once we find that dream car, we head into the office to find out what financing rates are like and proceed with the financing process to see if we qualify.
However, in our experience, we've found that changing the perspective can often result in a much more favourable financial result. Instead of finding a car and then finding out if you can afford it, or perhaps taking the chance of going over budget, why not consider approaching the whole process in reverse?
Our advice? Determine what you can realistically afford to repay for a car, get your financing, and then choose a vehicle based on those financial calculations.
Think about it this way: your ability to obtain financing and overall financing rates largely depend on your current financial standing – your income, your credit and your financial stability. If these are all solid, you shouldn't have a problem. However, if any of these are shaky – if you've got bruised or bad credit, are self-employed, new on the job, etc., getting financing may prove a bit trickier and so getting it organized first makes even more sense.
Also, don't forget that too many credit applications (and thus requests from lenders for your credit report) are not good for your credit, so it is best to avoid this as much as possible by securing financing at the very beginning.
Concerned that this may result in you buying a car that just isn't what you had in mind? Don't be. Some finance companies can even place you in the vehicle of your choice, making you and your wallet happy in the end!
At Prudent Value Cars, we want you to be happy with your vehicle purchase, not just when you drive the car off the lot, but for the entire time you own it. This means not regretting the financing or getting overwhelmed with your monthly payments. Want to start the process of buying a car the smart way?
Call us today at 1.888.852.7647.