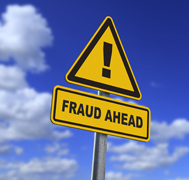 Unfortunately, the old saying can be true — it's a dog eat dog world out there. And that can be made even more apparent if you're seeking bad credit loans.
When you have bad credit, you are more vulnerable. Less people want to loan to you, so the people who will do so make you pay dearly for it. This can happen through high interest rates, strange terms, and some loan providers won't even report to the credit bureau, meaning you can't even rebuild credit by taking out a loan — which can sometimes be the whole point of getting a loan! It can be a scenario that leaves you worse off than when you started — rather than helping you get out of debt or rebuild credit, bad credit loans gone wrong can trap you in an unending cycle of debt that only digs you a deeper hole.
Some of the most common providers of bad credit loans are:
Payday loans. These can seem too good to be true and that's because they usually are. Most payday loan providers won't report to your credit, have sky-high interest (18% on every $100 you borrow), and are hard to pay back — legally, you have to pay the loan back within 62 days, but it's often sooner.
Private lenders. This is usually available when you own a house and have home equity. It can give you more funds, however, private lenders often don't report to the credit bureau and can have very high interest.
Some finance companies. This can be a good option if they report to your credit report and offer reasonable interest rates. But you need to make sure you're asking the right questions and reading the fine print of your contract very carefully.
So, what's the best choice for staying safe when seeking out bad credit loans? Prudent Financial Services.
We help people rebuild credit. But if you need more money, such as for debt consolidation, you can leverage your home or vehicle as security until lenders start to trust you again.
Whomever you decide to go with, there are certain things you should look for in any bad credit loans provider:
Has been in business for a long time with good reputation.
Reports to credit report.
Has an office and staff.
Has an online presence and is legitimate — not a fly-by-night operation.
Prudent Financial Services can provide with bad credit loans that won't leave you worse off than you started.
Contact us today for a free consultation: www.prudentfinancial.net or call 416-223-9300.