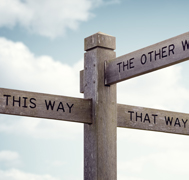 If you've filed for personal bankruptcy in Canada, you're not alone. Thousands of Canadians have done the same.
In 2016, 66,256 personal bankruptcies were declared in Canada. Of those, about 25,000 were filed in Quebec and roughly 17,500 in Ontario. In addition, 63,471 consumer proposals were received in the same year. The total number of personal bankruptcies and consumer proposals filed in Canada in 2016 was 129,727.
In short, there are a lot of people in Canada who struggle with unmanageable debt and who feel forced into declaring bankruptcy. Making the choice to file for personal bankruptcy can feel like a trial in and of itself, but in reality it's only half the battle. One of the most difficult things about declaring personal bankruptcy in Canada is how to recover.
Rebuilding credit is extremely challenging. While you are paying your licensed insolvency trustee, you are deemed an undischarged bankrupt, which can make it difficult to obtain and rebuild credit.
It's a catch-22. Many lenders will do business with a person who's previously been bankrupt, but only after they've proven that they have re-established their credit, however, most lenders won't do business with someone who is an undischarged bankrupt (paying back the licensed insolvency trustee) or who has no re-established credit.
So how can you re-establish credit when no one will lend to you? There is an answer. Prudent Financial Services. Prudent offers personal loans to undischarged bankrupts, or those who have no re-established credit.
Why choose a personal loan? When you've been bankrupt, rebuilding credit is critical. When you take out a personal loan, you can have reasonable interest rates, a fixed repayment schedule, and it reports to your credit report, meaning when you pay your loan back on time, you build better credit.
Taking out a personal loan can be the first step. The second is that you can use the loan money to get a secured credit card and go on to establish two types of rebuilt credit.
If you do go the route of rebuilding credit with a secured credit card, make sure you get a limit large enough (this depends on the deposit you put down). You need a larger limit to prove you can manage credit. Don't max out the card or use more than you can afford to pay in full on a monthly basis. Even if you pay the card on time, if you run the balance up, it will harm your credit.
After 12 months of managing your secured credit card, you can speak to your bank about your credit and your unsecured status.
Prudent Financial Services can help you navigate life after declaring personal bankruptcy in Canada. Contact us today for a free consultation to find out the best path to rebuilding credit.
Visit www.prudentfinancial.net or call 416-223-9300.