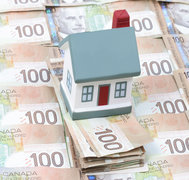 With Canadian interest rates rising and household debt levels at a record high, many people are looking at debt consolidation options. And one of the most popular is refinancing a first mortgage.
If you're considering consolidating debt, is a mortgage refinancing the best choice for you? The answer is, it depends.
Refinancing your first mortgage can sometimes be a great option and sometimes be a bad option, or even not available to you. It all depends on your home equity and first mortgage terms.
If your first mortgage is open (a variable-rate mortgage) and you have enough home equity, then it may make sense to lock in to a fixed-rate mortgage for as long as possible, especially with the pattern of Canadian interest rates going up.
However, if your mortgage is already locked in at a fixed rate or your variable rate is so low that disrupting it would be cost prohibitive, mortgage refinancing likely isn't right for you. But you may still need to consolidate debt.
If this is your situation, a secondary product, such as a second mortgage, may be the right plan for consolidating. The interest rates on a second mortgage will often still be lower than most credit cards, will provide a lower monthly payment, and won't interfere with your first mortgage.
There is a downside to both refinancing your first mortgage and going for a second mortgage — the closing costs. You may incur mortgage broker fees, legal fees, administrative fees, and appraisal fees associated to refinancing in either scenario. This can add up to between $3,000 and $5,000. As this can be pricy, if you don't have a lot of debt there is a third option you may want to consider: unsecured financing based on home equity.
This type of financing is based on home equity but isn't an actual mortgage that is registered on your home, so you don't incur closing costs. But you do need more home equity to qualify for this type of financing.
Whatever debt consolidation option you choose — refinancing your first mortgage, getting a second mortgage, or unsecured financing based on home equity — Prudent Mortgage Corp. can help.
We offer mortgages to people with bad credit and good credit at interest rates that are much cheaper than any other kind of loan.
Call Prudent Mortgage Corp. today at 1-888-852-7647 or visit www.prudentmortgage.ca.