Are you planning to renew your mortgage soon? If so, you could be in for sticker shock.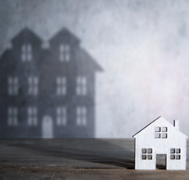 Economists estimate about 24.1% of mortgages will renew in 2020, and 26.8% in 2021. Since 2017, we have seen interest rates rise significantly, going from 0.5% to 1.75%.
If you last renewed your mortgage between 2014 to 2016, you are likely to face a renewal now at a higher rate. This also applies to mortgage refinancing – those seeking a lower mortgage refinance rate may be looking at higher numbers.
If you have a mortgage of $200,000, $300,000 or, as is the case with some in the Greater Toronto Area, $500,000 or more, even a 1% to 2% mortgage rate hike could mean a sizable increase to your payments.
Add that to higher gas prices and energy bills from carbon taxes, plus higher consumer pricing, and your budget may be even more stretched.
If you're in this situation, what can you do?
The best strategy is to be preemptive.
Organize your finances before you face renewal and work to strengthen your credit score, so you have the most negotiating power.
In order to improve your credit score and create more room in your budget, you need to deal with debt that you have already accumulated.
A second mortgage can enable you to consolidate debt and significantly cut your monthly payments. You can time the renewal with your first and take it out on renewal.
Another option is renewing/refinancing now while rates are lower. Interest rates are expected to rise again in 2020, so getting your renewal in sooner than later may be better.
You can also take out equity at the same time and may not even observe an increase to payment at all, depending on the amortization and terms.
In any case, the best plan is an organized one. Consult with a financial professional to see what your options are — and preferably a financial professional that has solutions available.
For instance, at Prudent Financial we offer mortgage renewal, mortgage refinancing, second mortgages, home equity personal loans, and more. We can help you rebuild credit, take stock of your finances, and choose the best option for you.
Contact us today for a free consultation. Call 1.888.852.7647 or visit www.prudentmortgage.ca.